The Great Kindness Challenge and VoiceThread
This is a guest post by educators and VoiceThreaders, Kelly Riley, Jeff Williams, and Stacey Zawisza.
Students + VoiceThread + Kindness = one wholehearted experience. The Great Kindness Challenge (GKC) is a global initiative where participating schools all over the world devote one week, January 25-29 of the current year, to reinvigorate their campus with a kindness driven culture. The J.W. Reason Elementary counseling department's focus for the week was to provide over 450 students with interactive, hands-on kindness lessons and activities each day. Little did our school leaders know the culmination of the GKC week, along with student passion, created for countless, unifying experiences. Here is one of those unforgettable experiences with the collaboration of VoiceThread.
During the Great Kindness Challenge Week, first grade students in Mrs. Zawisza's class participated in many discussions about how to spread kindness. After reading several mentor texts about kindness, and watching a virtual counseling lesson by Mr. Williams, students engaged in conversations about ways that they currently show kindness at school and at home. Once the students had shared their ideas, they were able to write and illustrate a piece about how they show kindness. This piece was used as a template to integrate VoiceThread into the kindness project.
With the assistance of Mrs. Riley, the technology integration teacher, the first grade students in Mrs. Zawisza's class used VoiceThread to take webcam photos of themselves holding their drawings and writing about how they are kind. Next, the students used the voice commenting feature to record themselves reading their work aloud for their classmates to hear. Finally the students shared their VoiceThread with their class group. This allowed everyone in the class, even non-readers to hear and understand their friends' work. When each student finished recording their own work, they were able to listen to their friends' VoiceThreads.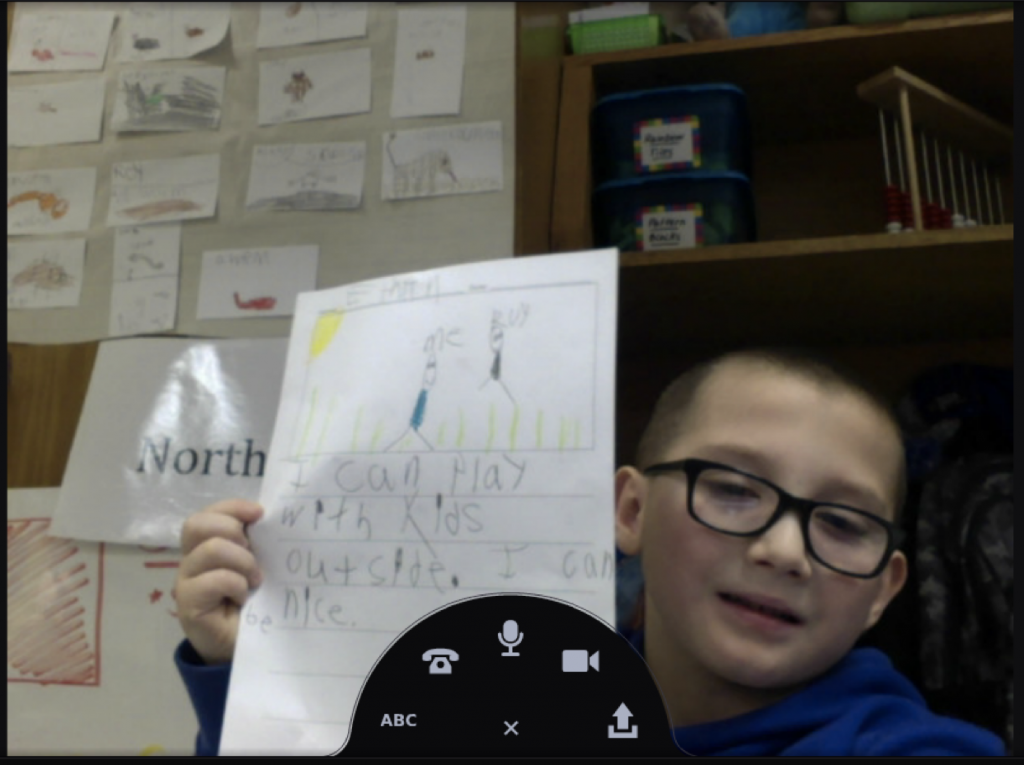 The next part of the Kindness Week learning was about how to comment on others' VoiceThreads. Mrs. Zawisza showed the students a great video about How to Compose a Quality Comment. This video is about commenting on a blog, but the tips easily transfer to VoiceThread. Mrs. Zawisza led the class in creating an anchor chart of tips for the students to refer to when they were ready to comment on one another's VoiceThreads.
With one student's kindness VoiceThread projected for the whole class to see, the students practiced making comments orally. They discussed whether or not it was a high quality comment so that they understood how to make a comment that contributes to the conversation. Talking it through before jumping into the technology was a great way for the students to practice their commenting and get feedback from Mrs. Zawisza and from each other.
The final step of the project was for the students to record quality comments. The students had so much fun recording audio and video comments on each other's VoiceThreads. They made personal connections to other students' work, asked follow up questions, and affirmed how they are kind not only during GKC week, but every day! It was an amazing experience for the students to practice their VoiceThread skills and to connect with their classmates.
---
About the authors:
Kelly Riley (@klsriley) is a technology integration specialist and VoiceThread Certified Educator. Kelly is passionate about co-teaching and providing professional development for educators to find awesome ways to use technology to help students interact with their world. Jeff Williams (@JAWsclcounselor) is a licensed school counselor. Jeff is driven to passionately incorporate student counseling standards in classroom activities, while promoting a safe environment to have meaningful discussions on the importance of mental health counseling in schools. Stacey Zawisza (@zawisza1stgrade) is a first grade teacher. Stacey enjoys collaborating with other teachers to provide many opportunities for her students to learn and grow as students and as individuals. Kelly, Jeff, and Stacey work together at J. W. Reason Elementary in the Hilliard City Schools in Hilliard, OH.